CHECK YOUR MAIL BOX
It's getting to be that time - time to renew your partnership with Joy 102.5!
Check your mailbox for a letter from WOLC and experience the Joy that comes from being a part of our family.
ARTIST OF THE DAY
The Museum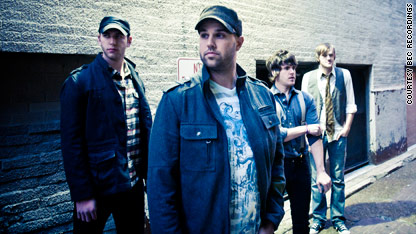 The Museum took shape when singer Ben Richter and guitarist Geoffrey Ashcraft moved from Texas to Georgia and plugged into a church where drummer/programmer Josh Kirk was the janitor. Soon they were leading local worship services together and then traveling on musical mission trips overseas.
In Romania, Josh was deeply moved to be part of a large Christian gathering in a town square where communism had been overthrown in 1989. A nearby museum containing humble evidence of that revolution also left a remarkable impression. It was that particular museum that led to the band's name. Josh says, "because we hope our music and those we share it with can be the evidence that Christ has done a revolution in our hearts."
Joined by bassist Chris Brink in 2009, The Museum is continuing its commitment to global outreach while also developing an important bond with churches across the United States. Ben's passion for staying rooted in a spiritual community brought the group to Briarlake Church near Atlanta where it still leads worship most Sundays. Additionally, the guys have helped out at neighboring North Point Community Church's partner Atlanta locations and around the country as well as Ben leads at the multi-site Elevation Church in North Carolina on a recurring basis.
For The Museum, reaching out to the world in need was a priority long before it had the platform that a record deal provides. Geoffrey lived in Belize for many years with his missionary family. Josh—who recently earned a commercial pilot's license—will someday fly mission workers and supplies into remote areas. Together, the band partners with Overlooked, a company that donates proceeds from t-shirt sales to provide clean water to children in Africa, help free young girls from sexual slavery, which is a global issue, and feed victims of the earthquake in Haiti.

Latest Album:
Let Love Win
Twitter:
@TheMuseumMusic

Want More?
CLICK HERE
Video:
Never Look Away
SCRIPTURAL PURSUIT
Q: What was the tent that was made according to God's specifications?
A: the tabernacle (Exodus 26:1-4)
Score for Toni of Seaford!