Countdown to Christmas:
3 Days
Merry Christmas to all!
ARTIST OF THE DAY
Caedmon's Call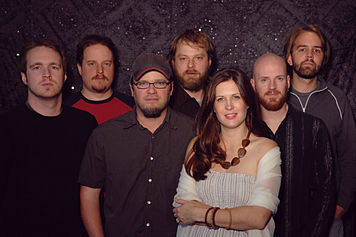 Caedmon's Call has been producing eclectic, acoustic driven music for two decades. Cliff Young fronts this family of songwriters that includes Derek Webb, Danielle Young (Cliff's wife), Andy Osenga, Todd Bragg, Garett Buell, Jeff Miller and Josh Moore. Ask any Christian performer who they think is authentic in a world of pop culture glitz and they'll tell you, without skipping a beat, Caedmon's Call.
When Christian music exploded in the 90s - playing sold out arenas and massive mega-churches, Caedmon's Call continued (in spite of their great success) to play coffee shops and bars. They always wanted to be where they felt Jesus would be. Caedmon's Call has sold over a million units of its 15 records to date but has always been more of a community itself than a band.
Caedmon's also helped launch or boosted the careers of artists like Bebo Norman, Jill Phillips, Waterdeep, and Andrew Peterson. The band is also a longtime promoter of missional living, through their longtime partnership with
Compassion International
, and more recently with the
Dalit Freedom Network
, an organization fighting caste discrimination in India, and the band's own
Share The Well Foundation
.
Birth:
The band formed around an acoustic guitar in Cliff Young's dorm room while they were all still in college. Although Cliff and Danielle had been song writing together while dating in high school.
Fashion:
Danielle Young often wears overalls in concert - and the rest of the band now refers to all overalls as Danielles.
Christmas Music:
Caedmon's Call is a featured artist on the
City On A Hill: It's Christmas Time
Christmas/Worship album.
Album:
Raising Up The Dead
Twitter:
@caedmonscall
Want More?
CLICK HERE
Video:
Lead of Love
live
What artists would you like to hear featured on
The Artist of the Day
?
SCRIPTURAL PURSUIT
Q: What did Samson use as a weapon to slay 1000 Philistines?
A: The jawbone of a donkey. (Judges 15)
It's a very merry Christmas for Stephanie in Parksley, VA!
JOIN THE TEAM!
Joy 102.5 is a listener supported ministry. You can be a part of this amazing ministry by supporting us financially.
CLICK HERE
to learn more!
LISTEN ONLINE
CLICK HERE
for Joy 102.5! (Christian Hits)
CLICK HERE
for The Ark on WOLC.org (Southern Gospel)