The Thanksgiving countdown is on!
2 Days
ARTIST OF THE DAY
Jars of Clay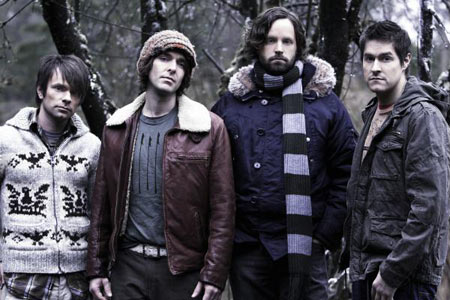 Jars of Clay formed in 1994, when Dan Haseltine and Charlie Lowell became friends at Greenville College. By the end of 1995, few had not heard their breakout song
Flood
. Ever since, this college rock band has pursued their art form with relentless touring, recording and writing.
While Jars of Clay's legacy as great songwriters is cemented, their latest album
The Shelter
is something a little different. They wanted something new to push their sound and their message past the wall of their own comfort zone. So they grabbed their friends who happen to be amazing song-writers and performers and got some fresh new ideas for song writing and recording. Making cameos as performers and/or song writers on The Shelter: Laura Story, Phillip LaRue, Mac Powell, Amy Grant, Brandon Heath, Leigh Nash, TobyMac, and more!
The Shelter
broaches topics of social justice, per usual for Jars of Clay, but also a touch of something they have not focused on before: The Church.
The Shelter
is a love song to how the body of Christ can interact when following Christ in a broken world.
Album:
The Shelter
Remix EP:
Reinvent, Remember, Replay
Ministry:
blood:water mission
Twitter:
@jarsofclay
Tour:
CLICK HERE
Want More?
CLICK HERE
Video:
Closer
Live
What artists would you like to hear featured on
The Artist of the Day
?
SCRIPTURAL PURSUIT
Q: What is the 6th Commandment?
A: You shall not murder. (Exodus 20)
Score for Bekah!
JOIN THE TEAM!
Joy 102.5 is a listener supported ministry. You can be a part of this amazing ministry by supporting us financially.
CLICK HERE
to learn more!
LISTEN ONLINE
CLICK HERE
for Joy 102.5! (Christian Hits)
CLICK HERE
for The Ark on WOLC.org (Southern Gospel)