Thanksgiving Countdown:
13 Days
ARTIST OF THE DAY
Warr Acres (formerly VMusic)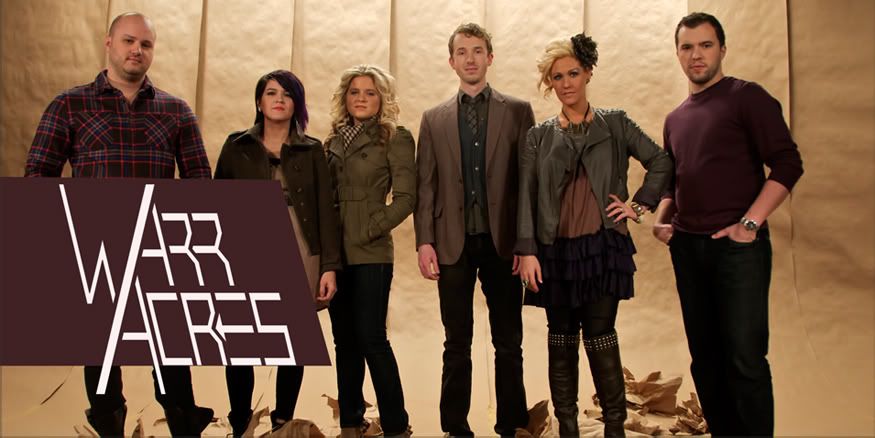 Warr Acres (formerly known as VMusic) is the worship team from Victory Church in Oklahoma City, Oklahoma. They are a group of musicians, singers, dancers, audio & video artists, and songwriters who have committed to taking the creativity that God has given them, and use it to give back to Him.
The band finds its roots in the life-changing story of Pastor Mark Crow's wife, Jennifer, being healed of depression and multiple physical ailments. That's when VMusic was formed and the ministry has continued to evolve. Out of Jennifer Crow's healing, she began to write songs expressing the love and thanksgiving that flowed out of her heart to God.
As VMusic, the band penned six #1 hits on Indie Christian radio from 2008 through 2010, was featured twice on Worship Leader Magazine's Song Discovery CD, and was nominated for the Dove Awards in 2011 and the Premios Arpain 2010.
Christian recording artist Kristy Starling joined VMusic and began leading worship at Victory Church in 2006 when her husband Adam joined the Pastoral team at Victory.
The Name:
Warr Acres is the name of the community outside OKC where Pastor Crow planted Victory Church in 1994 - and where the ministry continues to grow and impact lives.
Album:
Warr Acres
Twitter:
@Warr_Acres
Want More?
CLICK HERE
Video:
Undignified
What artists would you like to hear featured on
The Artist of the Day
?
SCRIPTURAL PURSUIT
Q: What did Joseph have his servant put in Benjamin's sack, to make it look like Benjamin had stolen it?
A: A silver cup.
Way to go, Nate in Eden, MD!
JOIN THE TEAM!
Joy 102.5 is a listener supported ministry. You can be a part of this amazing ministry by supporting us financially.
CLICK HERE
to learn more!
LISTEN ONLINE
CLICK HERE
for Joy 102.5! (Christian Hits)
CLICK HERE
for The Ark on WOLC.org (Southern Gospel)