NEW RELEASE TUESDAY
As For Me and My House
by John Waller | Genre: Adult Contemporary
Captivated
by Nicole C. Mullen | Genre: Adult Contemporary
Weights & Measures
by Hyland | Genre: Pop/Rock
You Can Be Loved
by Beth Williams | Genre: Pop/Rock
Love Is Calling
by Johnnie and Brookie | Genre: Pop/Rock
Shockwave
by Mission Six | Genre: Pop/Rock
Reflection
by The Rubyz | Genre: Pop/Rock
Beautiful Ashes
by Eowyn | Genre: Rock
Want the deets?
CLICK HERE

ARTIST OF THE DAY
Revive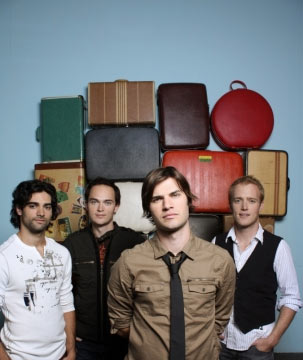 Sure, you can plug away at the church and club scene - playing every show you get offered and working for food and a closet to sleep in. Or you can score a chance to open for Third Day - get noticed by Mac Powell who then moves you from Australia to Atlanta, produces your album and gets you nominated for New Artist of the Year at the GMA's. Option 2 is the route that Australian band Revive took. Smart move, dudes.
Of course that sort of change can be daunting. In fact, after the initial success with their debut album, original guitarist Tyler Hall, never truly able to ease the discomfort from leaving his homeland, decided to move back to Australia with his wife. Hanbury, Tenkate and bass player Rich Thompson continued working on Blink—even before they found Hall's replacement—and slightly altered the band's musical core in the process.
Another big break for this up and coming band - ABC's Secret Millionaire recently featured their hit song "Something Glorious!"
Revive Is:
Dave Hanbury - Lead Vocals
Rich Thompson - Bass
Mike Tenkate - Drums
AJ Cheek - Guitar
Latest Album:
Blink

Want More?
CLICK HERE
Scriptural Pursuit
Q: Name two of the four metals that comprised the statue in Nebuchadnezzar's dream?
A:
Gold
, Silver,
Bronze
(or Brass) and Iron (Daniel 2)
Congratulations, Rose!