NEW RELEASE TUESDAY
Black & White
by Royal Tailor | Genre: Pop/Rock
Angel & Chanelle
by Trin-I-Tee 5:7 | Genre: Gospel
Come And Drink EP
by Matthew Reed | Genre: Praise & Worship
D.O.P.E.
by Transparent | Genre: Rap
Blacklight
by Tedashii | Genre: Rap
Want more?
Info, Purchasing, etc.
CLICK HERE
ARTIST OF THE DAY
The Afters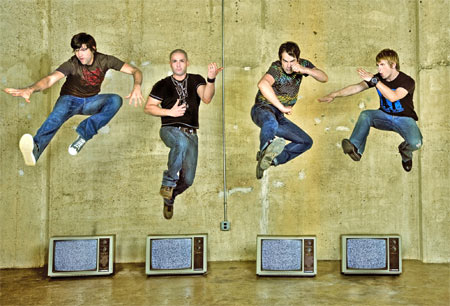 After losing their longtime friend and manager to a two-year battle with pancreatic cancer, two band members deciding to part ways, a nearly life-threatening car wreck and a new member losing a close friend one week after joining the band, it has been a hard season of change for The Afters. Holding on to their faith and their passion for making music, has kept the band focused throughout the mess of it all.
The changes in line-up and the constant evolution of sound created a fresh sound for the new album. Sonically,
Light Up the Sky
is somewhat of a departure from the grunge rock of the band's debut. Instead, this collection of songs tends to lean more pop.
The Afters have seen a quick rise to success, forming in 2007 when Josh and Matt met while both working at their local Starbucks in Mesquite, TX. The band formed under the name Blisse, but thankfully they changed it before debuting with their first album
Never Going Back To OK
.
The Afters are:
Founding member Josh Havens (lead vocals/keys/guitars)
Founding member Matt Fuqua (vocals/guitars)
New member Dan Ostebo (bass)
New member Jordan Mohilowski (drums)
Latest Album:
Light Up The Sky

Want More?
CLICK HERE

Music Video:
Lift Me Up

Scriptural Pursuit
Q: Which of the 10 Plagues (the 10th) finally convinced the Egyptian pharaoh to let the Israelites go?
A: Death of the Firstborn (Exodus 12:30-32)
Congratulations, Bill!