OFFICIAL CHRISTMAS COUNTDOWN:
25

Days
ARTIST OF THE DAY
Brooklyn Tabernacle Choir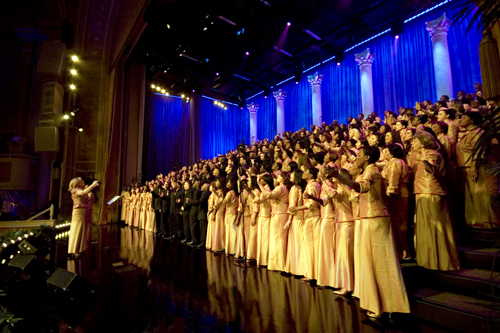 The Brooklyn Tabernacle Choir (out of the Brooklyn Tabernacle Church) is directed by Carol Cymbala, the wife of Senior Pastor Jim Cymbala and the daughter of the church founder, the late Rev. Clair Hutchins. Although the Choir is composed of vocally untrained church members, it has been used by the Lord to present the love of God all over the world. The 285-voice choir has recorded three videos, three DVDs, and numerous albums, winning six Grammy Awards.
It is a highly unlikely ensemble, a mixture of ethnic and economic backgrounds. The choir is made up of attorneys and street people, nurses and ex-crack addicts, a unique cross section of humanity.
Pastor Cymbala explains: "None of us would have met if it weren't for Christ. Our backgrounds are just too diverse. But all of us have one thing in common: we have all been lifted up and saved. So the Choir sings—not about a theological position—but about what has happened to them. It's not a theory; it's a reality."
The Choir's latest album project is entitled "Declare Your Name". Their concert venues in New York City have included Carnegie Hall, Radio City Music Hall, the Paramount Theater, and a sold-out performance at the Madison Square Garden Theater.

Christmas Album:
A Brooklyn Tabernacle Christmas
Twitter:
@TheBrooklynTab
Want More?
CLICK HERE
Video:
Hallelujah to the King
SCRIPTURAL PURSUIT
Q: In the Gospel of Matthew, who moved the stone from Jesus' tomb?
A: an angel (Matthew 28:2)
Score for Teresa of Salisbury!