Everytime it rains, I smile - because it means I won't have to mow the lawn tonight.
ARTIST OF THE DAY
Kerrie Roberts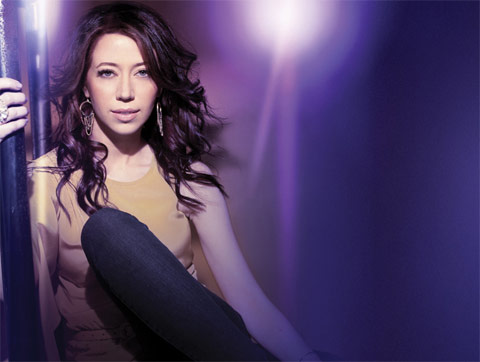 Kerrie Roberts is a big voice in a little package. She grew up singing in church, where she'd often have to stand on a crate so that people sitting further back than the front row could see where her powerful voice was coming from! Kerrie's dad was a pastor and her mom the choir director for their church. Being front and center in church was bred into her from birth!
Kerrie began writing her first songs in high school, performing one during her own graduation. When the time came for college, Kerrie chose to get her degree in Studio Music and Jazz Vocal Performance at the University of Miami.
Kerrie Roberts was determined to make it in the music industry - and perservered through a trying time of life. While living in Florida, she financially enabled her music pursuits by teaching elementary school and working as an accountant. In 2008, she relocated to New York with two suitcases in hand, moving into a tiny apartment with almost no furniture. Working a desk job by day, she pursued her musical dream at night.
"Little kids have dreams. For me, it was 'I'm going to be a singer.' And I never grew out of it."
TV:
Kerrie's music has been featured on Fox and ABC for various promotions and TV show soundtracks.
Album:
Finally Home Single
Twitter:
@Kerrie_Roberts
Tour:
CLICK HERE
Want More?
CLICK HERE
Video:
Beautiful To Me
(Acoustic)
What artists would you like to hear featured on
The Artist of the Day
?
Email me
and let me know!
SCRIPTURAL PURSUIT
Q:
A:
JOIN THE TEAM!
Joy 102.5 is a listener supported ministry. You can be a part of this amazing ministry by supporting us financially.
CLICK HERE
to learn more!
LISTEN ONLINE
CLICK HERE
for Joy 102.5! (Christian Hits)
CLICK HERE
for The Ark on WOLC.org (Southern Gospel)