Thanks for the reminder that we are in this thing together!
ARTIST OF THE DAY
Avalon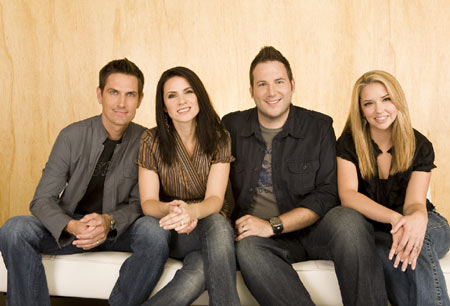 Avalon was formed in 1995 by Grant Cunningham, A&R director at Sparrow Records. Cunningham was in search of a vocal group that could sing tight harmonies and carry God's message to the world. He pooled talent from mega group Truth and other struggling soloists to form the harmony driven vocal group - and its been a whirlwind of excellence for the last 16 years!
So who has that sort of success and says "I think we need to shake things up a bit?" That's exactly what Avalon did with their latest album Reborn. As artists they wanted to be more than just relevant, but to push the envelope and deliver music with a message that will reach the world.
The band is currently on hiatus, occasionally playing a show or event. But members keep making great music!
Jeremi and Amy Richardson
recently released a worship record called
Never Let Go
.
Avalon by the Numbers:
4 million records sold
21 chart topping singles
16 albums
6 Dove Awards
3 Grammy nominations
1 American Music Award
Current Line-up:
Janna Long
Greg Long
Jeremi Richardson
Amy Richardson
Former Members:
Rikk Kittleman
Tabitha Fair
Nikki Anders
Cherie Adams
Michael Passons
Jody McBrayer
Melissa Greene
Twitter:
@AVALONtheGroup
Tour:
CLICK HERE
Want More?
CLICK HERE
Video:
Adonai
Live
What artists would you like to hear featured on
The Artist of the Day
?
JOIN THE TEAM!
Joy 102.5 is a listener supported ministry. You can be a part of this amazing ministry by supporting us financially.
CLICK HERE
to learn more!
LISTEN ONLINE
CLICK HERE
for Joy 102.5! (Christian Hits)
CLICK HERE
for The Ark on WOLC.org (Southern Gospel)