Oh weekend - so close, yet so far away...
ARTIST OF THE DAY
Among The Thirsty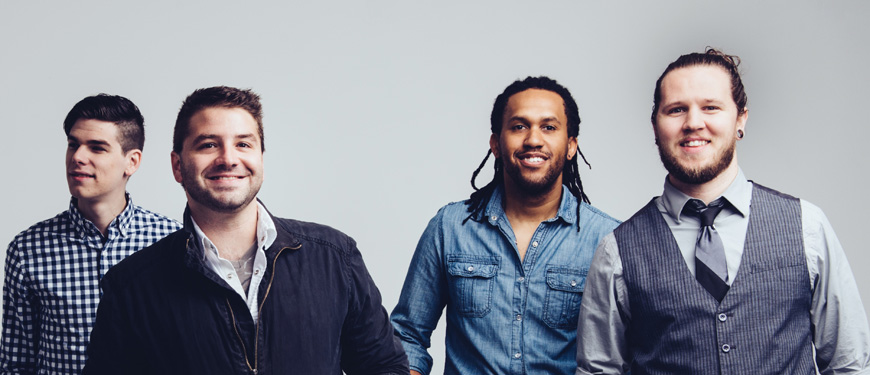 Among The Thirsty is Christian Contemporary/Modern Worship/Rock band from the Tampa Bay area of Florida. Formed in 2004 by two high school buddies, Among the Thirsty has developed into a nationally touring band, reaching across the country with their powerful worship, razor sharp rock, and funk. Once coined "The Fab Four of Christian Music", Among the Thirsty has been able to cross age barriers and genre lines to bring a type of music that reaches the entire listening audience.
"Our purpose is to present a unique style of the Gospel to the world through our music. We strive to live a life that is worthy of God's presence, to proclaim the Majesty and Holiness of Christ with our gifts, and to speak words of hope and life to all those who are searching and hurting. We make a strong effort to be straight forward with the gospel and not to be timid when sharing the Good News. All these talents and gifts have been given by the grace of God and from a heart of thankfulness we continue to Thirst for more of Him."
About Wonder:
Front-man and lead guitarist, Ryan Daniel says this album was birthed from a heart to reach people with the hope and the love of Christ. The
Wonder
of God's love is at the foundation of this project.
Line Up:
Ryan Daniel - Acoustic guitar/lead vocals
Brock Douglas - Bass guitar/BG vocals
Brian Scott Henderson - Guitar/BG vocals
Riley Donnell-Guitar/BG vocals
John Wall-Drums
Album:
Wonder
Twitter:
@AmongTheThirsty
Instagram:
CLICK 4 PICS
Tour:
CLICK HERE
Want More?
CLICK HERE
Video:
I'd Need A Savior
Live
What artists would you like to hear featured on
The Artist of the Day
?
JOIN THE TEAM!
Joy 102.5 is a listener supported ministry. You can be a part of this amazing ministry by supporting us financially.
CLICK HERE
to learn more!
LISTEN ONLINE
CLICK HERE
for Joy 102.5!