Summ
ahhh
!
ARTIST OF THE DAY
Shane & Shane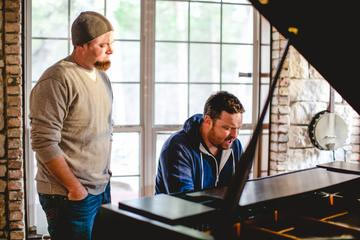 Life is a whirlwind for Shane & Shane. After both settling down, getting married and having three kids between the two families, it looked like their national music careers were over. The Shanes took on worship leading at their home church and had resigned themselves to just being local musicians and family men.
But God had other plans. After a season of growing with their church, experiencing fatherhood and impacting lives of young people through discipleship - God began to write songs through Shane & Shane once again. Really good songs. The best songs they had ever written. After sending a demo to some friends in Nashville they immediately got picked up by Fair Trade Records (MercyMe) with whom they've now produced two excellent albums.
For their newest album,
Bring Your Nothing
, Shane & Shane decided to live the dream of
anyone who has ever been in a band
. The guys bought 22 acres of land outside of Dallas, TX and converted an old ranch house into a state of the art studio - which they named
Wellhouse Studios
. The Shanes hosted a 7 day retreat with their musical friends and in just one week - the album was written and recorded.
Musical Chairs:
Shane Barnard is married to Bethany Dillon, who is also an acclaimed Christian musician.
Album:
Bring Your Nothing
Twitter:
@shaneandshane
Instagram:
CLICK 4 PICS
Tour:
CLICK HERE
Want More?
CLICK HERE
Video:
Yearn
Acoustic
What artists would you like to hear featured on
The Artist of the Day
?
JOIN THE TEAM!
Joy 102.5 is a listener supported ministry. You can be a part of this amazing ministry by supporting us financially.
CLICK HERE
to learn more!
LISTEN ONLINE
CLICK HERE
for Joy 102.5!