My birthday is next week.
I can't win a blizzard cake, but
you can
!
NEW RELEASE TUESDAY
The Worship Sessions
by MercyMe | Genre: Praise & Worship
Sunny Days
by Tammy Trent | Genre: Pop/Rock
We Believe LIVE
by One: A Worship Collective | Genre: Praise & Worship
Greater Than
by Tye Tribbett | Genre: Gospel
Wrongdoers
by Norma Jean | Genre: Hard Rock
Random Foolishness
by Darlene McCoy | Genre: Comedy
WANT MORE?
CLICK HERE
ARTIST OF THE DAY
Sonicflood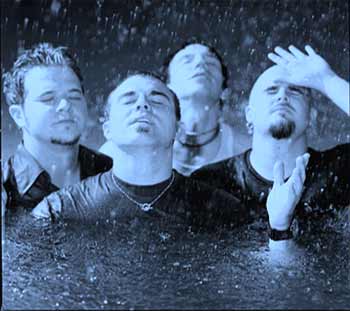 There have been (at least) two different Sonicfloods. The first, fronted by Jeff Deyo, from 1997-2000. The second fronted by Rick Heil beginning in 2000 to present day. It's a sordid tale how one band has had like 30 members and 12 different sounds...
The original Sonicflood began life as Zilch - the travel band for the greatest Christian group of all time, dcTalk. Mark Lee Townsend was the lead singer during the Zilch years. The band made a habit of leading worship as the opening act for dcTalk's concerts. They were just having fun, but became a fan favorite - so much so that dcTalk's label gave them their own record deal.
That's when Jeff Deyo stepped into lead singer duties. The band changed their name from Zilch to Sonicflood to symbolically say "this is a new beginning in our service to God." They compared the name change to when Saul became Paul in the Book of Acts. But it really did become a new band. Most of the guys from Zilch went on to become producers and VPs for record labels - while other musicians joined the team in a rotating door of gifted musicians.
In 2000 the band fell apart. There was no true leadership and disagreements about how the band should sound - if they should continue focussing on worship music - and who would get royalty checks, since many people participated in the writing and performing process. Deyo resigned - as did others. Rick Heil (former bass player for Big Tent Revival) become the new lead singer and Sonicflood was rebuilt from the ground up by their record label. It was messy.
The Name Game:
The band's name comes from Revelation 19:6, "Then I heard what sounded like a great multitude, like the roar of rushing waters and like loud peals of thunder, shouting: "Hallelujah! For our Lord God Almighty reigns." The original band name (Zilch) came from a Monkees song.
Original Album:
SonicFlood
Twitter:
@SONICFLOOd
Tour:
CLICK HERE
Want More?
CLICK HERE
Video:
Hero Zero
(from the Zilch days - Warning: it's weird)
What artists would you like to hear featured on
The Artist of the Day
?
JOIN THE TEAM!
Joy 102.5 is a listener supported ministry. You can be a part of this amazing ministry by supporting us financially.
CLICK HERE
to learn more!
LISTEN ONLINE
CLICK HERE
for Joy 102.5!