I hope your Easter was memorable and worship-filled!
If you have yet to connect to a local expression of the body of Christ - let us help!
CLICK HERE
for our Area Church Directory.
ARTIST OF THE DAY
Francesca Battistelli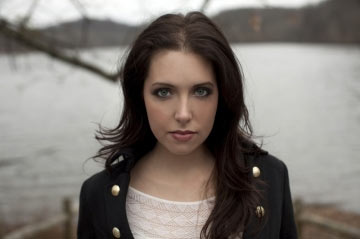 Francesca Battistelli's last couple of years were more like a whirlwind than actual time! Bursting onto the scene with My Paper Heart, an album so rich with sincerity and filled with radio hits, made 2010 something of an out of body experience. And to think this was not the life Francesca set out for ...
At only six years old, Francesca was an aspiring actress. She longed to be on Broadway - singing and dancing and acting. Francesca's passion for life on the stage wasn't all that surprising, given her mom and dad's extensive theater background. In fact, they met when her dad was the assistant conductor for the national tour of "The King and I," while her mom played Anna, the show's female lead opposite Yul Brynner.
And when Francesca was 15, she put her skills to good use in an all-girl mainstream pop group in Orlando, an experience that helped pave the way for what she does today. But when the gig eventually ended, Francesca says she was thankful for an opportunity to clear her head. "Not long after, I recharged my batteries by going to this youth ministry that I absolutely loved," Francesca shares. "It was there where the Lord really captured my heart for Christian music. I started playing guitar and really longed to bring something authentic to the scene that even non-Christians could listen to."
Inspiration for Hundred More Years:
"We must be willing to let go of the life we have planned, so as to have the life that is waiting for us."—E.M. Forester
Francesca married Matthew Goodwin in 2009 (he plays drums for her band now) and they welcomed baby Matthew into the family this past September. The 2009 Dove Female Vocalist and New Artist Of The Year released her sophomore album
Hundred More Years
, featuring the hits
This is the Stuff
,
Motion of Mercy
and the brand new
Angel By Your Side
.
Album:
Hundred More Years
Twitter:
@francescamusic
Tour:
CLICK HERE
(She's in Marlton, NJ April 29th!)
Want More?
CLICK HERE
Video:
This Is The Stuff
SCRIPTURAL PURSUIT
Q: Isaiah compared the wickedness of Jerusalem to what two cities destroyed during Abraham's time?
A: Sodom & Gomorrah (Isaiah 1:8-13)
Big win for Nahan on Princess Anne, MD! Tune in all week for special Todd Agnew & Jonny Diaz prizes (including
concert
tickets)!