Last night I had the pleasure of attending my first small group meeting with my new church. It was awesome to start getting to know my church family in a more intimate setting. I'm not trying to recruit you to my church, but I do want to emphasize how incredibly crucial being a part of a church is to your walk with Christ.
Jesus even surrounded himself with a tight knit group of folks (the disciples). He modeled it so we would continue it. If you have a church - go! If you don't - check out our
Area Church Directory
to find a place near you where you can learn, grow, work in your community.
New Release Tuesday
The Newest Music $ Can Buy
Outta Space Love
by Group 1 Crew | Genre: Urban
Canvas of the Kingdom (Ep)
by Beyond Us | Genre: Rock/Worship
Pressing On
by Mary Alessi | Genre: Gospel
Slim pickin's this week. Check out more:
http://www.newreleasetuesday.com/new_release.php
102.5 Shore Things
Getting to know the Eastern Shore
#66. The Elks Swim and Golf Club
Fred Flinstone had his Royal Order of the Waterbuffalo - but Salisbury offers a version with fewer dinosaurs. Founded in December 1902 the Salisbury Elks #817 was formally chartered on July 23, 1903. The current Lodge location was opened in January 1950. You have to be a member to enjoy the swimming accomodations, but the golf course is playable to the public. I want to learn golf. I'm decent at putt-putt.
Learn more about The Elks
HERE
#65. Route 12 Pizza (Snow Hill Road)
Have something to add to the list? I'd love for you to email me your ideas: jmillwood@wolc.org
ARTIST OF THE DAY:
Barlow Girl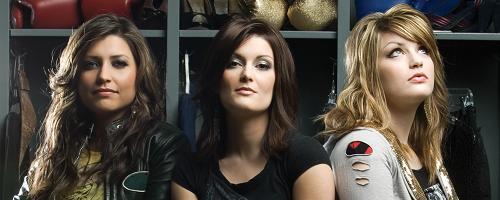 "All the boys in the band want a valentine from a Barlow girl. Boys think they're the bomb cause they remind them of their mom" - Superchic[k]'s song "Barlow Girl"
Three sisters left an indelible impression on Superchick as they passed through on tour. Just a year later in 2004 those girls formed their own praise rock outfit and hit it big!
BarlowGirl has always represented an interesting dichotomy; tender-hearted, beautiful young women who aren't afraid to take an aggressive, almost warrior-like stance when it comes to spreading the gospel and serving God. Since releasing their self-titled debut in 2004, Rebecca, Alyssa and Lauren Barlow have continuously inspired fans, racked up Dove Awards, hit singles, successful albums, and toured the world!
Their latest:
Love & War
It will not disappoint!
Want more of this super-girl-group?
CLICK HERE