Christmastime is here. Happiness and debt.
If the holidays has you overspending, be sure to listen daily to
Money Life
! 2:30 PM weekday afternoons, just before the Joy Ride! It is practical, Godly, and encouraging.
ARTIST OF THE DAY
Avalon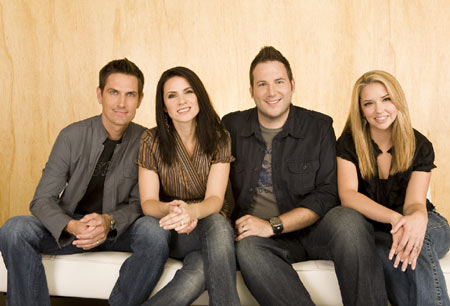 Avalon has been a Christian music staple for over 15 years. To their credit: 21 #1 radio hits, 6 Dove Awards, 3 Grammy nominations and even an American Music Award! They could just put out greatest hits albums and tour, singing old songs for another 20 years - but noooo, they went out and nabbed uber-producer Ian Eskelin to breathe some new life into their music. That proves that these singers are artists and performers committed to growth.
The group has featured many different singers over the years:
Current members
* Janna Long
* Greg Long
* Jeremi Richardson
* Amy Richardson
Former Members
* Rikk Kittleman
* Tabitha Fair
* Nikki Anders
* Cherie Adams
* Michael Passons
* Jody McBrayer
* Melissa Greene
Christmas Album:
Joy
Latest Album:
Reborn
Want More?
CLICK HERE

Scriptural Pursuit
Q: In what body of water was Jesus baptized by his cousin, John?
A: The Jordan River (Matthew 3:13)