This year I have watched far fewer Christmas movies and specials than is usual for me. Probably because I've never before had an 11 month old to chase around. I sort of miss it, to tell the truth. I didn't watch Elf or A Charlie Brown Christmas or any of the Tim Allen Santa Clause movies. I did catch a few Christmas episodes of my favorite shows, but I missed out on Home Alone and Christmas Vacation!

ARTIST OF THE DAY
Anointed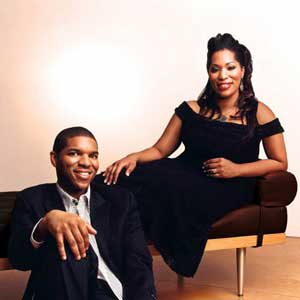 Da'dra and Steve were born and raised in Columbus, Ohio; two of nine children in a strong, church-going family where musical gifts were taken as a given. When they were hardly more than toddlers they were already singing with their extended family group, the Crawford Singers, which included their parents, grandparents, aunts, uncles and cousins on all vocals and instruments, performing in and around the Columbus area.
Anointed has always been renowned and celebrated for its singular gift at breaking down barriers of genre, styles and markets while building a broad, multi-ethnic following in the process. The group has won seven Dove Awards, two Stellar Awards and three Grammy Award nominations. Brother and sister Steve and Da'dra still helm the group, Nee-C and Mary having left in the early 2000's. Their latest album Now Is The Time spotlights their songwriting like never before. Except for a tribute recording to Andre Crouch - the entire album was written by the duo.
Latest Album:
Now Is The Time
Want More?
CLICK HERE
Scriptural Pursuit
Q: According to Jeremiah's vision, where would the new Covenant between God and man be written?
A: On men's hearts! (Jeremiah 31:33)