Did you know that "google" is an official verb in the dictionary? It means to search the internet. Google the company tried to sue to have it removed - but because it has become such a part of modern vernacular, the suite was tossed out. I know this because I googled it.
102.5 Shore Things
Getting to know the Eastern Shore
#46. Long Wharf Park in Cambridge
It's a long wharf (not to be confused with Michael Dorn's Worf from Star Trek The Next Generation). It's a lovely glance at the nautical life, where at least a couple of Skipjacks are docked (and can be chartered, but that is another addition to the list). So if nautical nonsense be something you wish, forget Sponge Bob, and take your square pants over to Long Wharf!
#45. Homemade donuts from Bay Country Bakery
Have something to add to the list? I'd love for you to email me your ideas: jmillwood@wolc.org
ARTIST OF THE DAY:
Fee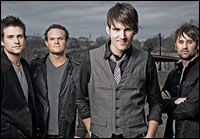 Steve Fee is the front-man for the creatively named band Fee - a worship group born out of North Point Community Church in the metro ATL area.
Fee's latest album "Hope Rising" is available for purchase and download now!
Avoid hidden fees - check out Fee's website:
http://feeband.com/